Belgian Economic Mission Visits New Bedford and Celebrates Leadership in Offshore Wind
New Bedford, Massachusetts – A delegation of Belgian companies visited New Bedford on June 10, 2022 to explore opportunities for partnership and investment in the region's growing offshore wind market. The delegation is the third foreign trade mission to visit New Bedford this year with an interest in forging relationships with local stakeholders and learning about the City's marketplace assets and advantages in offshore wind.
The delegation's visit was hosted by the New Bedford Ocean Cluster (NBOC) and part of a larger Belgian Economic Mission to the U.S., organized by Flanders Investment & Trade and the Consulate General of Belgium.
"We have fostered ties with European industry leaders for nearly a decade, and those connections now are coming to fruition," Mayor Jon Mitchell said. "We look forward to deepening partnerships with seasoned offshore wind companies from mature industries across northern Europe, who recognize the opportunity to grow their businesses in the Port of New Bedford."
The NBOC's mission is to leverage New Bedford's coastal position, marine knowledge base, and landside capacity to drive employment and wealth creation for New Bedford residents. Working collaboratively with a range of private sector, public sector, and academic partners, the NBOC will work to establish New Bedford as the leading ocean economy on the East Coast through a strategic focus on four interrelated industry pillars: aquaculture, commercial fishing and processing, offshore renewable energy, and innovation & technology.
"We are excited to welcome the Belgian delegation to New Bedford to experience all that the city has to offer the burgeoning offshore wind industry," said Jennifer Downing, Executive Director of the NBOC. "New Bedford has been at the forefront of developing offshore wind in the U.S., much like Belgium has been in Europe, for over a decade. Our regions can both experience economic benefit from each other's leadership in this industry."
"The port of New Bedford is destined to become one of the main gateways in the development of offshore wind projects in the Northeast. The newly formed New Bedford Ocean Cluster brings together key stakeholders and is at the heart of the local ecosystem. It was important for us to bring our Belgian companies to New Bedford, to plug into that ecosystem, and to prepare them for the opportunities," said Ralph Moreau, Science & Technology Counselor for the Americas at Flanders Investment & Trade.
Delegates spent the afternoon at the Whaling Museum networking and hearing presentations by Mayor Jon Mitchell, Jennifer Downing, NBOC Executive Director; and Bill White, Avangrid Renewables' President and CEO, Offshore. A panel discussion with representatives from Context Labs and Spherical Analytics, MassCEC, Bristol Community College, and the MassHire Greater New Bedford Workforce Investment Board explored state and local issues and opportunities related to offshore wind workforce development and training.
"As part of the IBERDROLA group, AVANGRID is leading the way in the U.S. market by leveraging our global experience, expertise, and supply chain network to drive new investment and job creation in communities like New Bedford," said Bill White, Avangrid Renewables' President & CEO, Offshore. "By working with the City of New Bedford, the New Bedford Ocean Cluster, and our partners from Belgium and Flanders, we're building a new platform for economic growth in Massachusetts' South Coast region while advancing our nation-leading portfolio of offshore wind projects."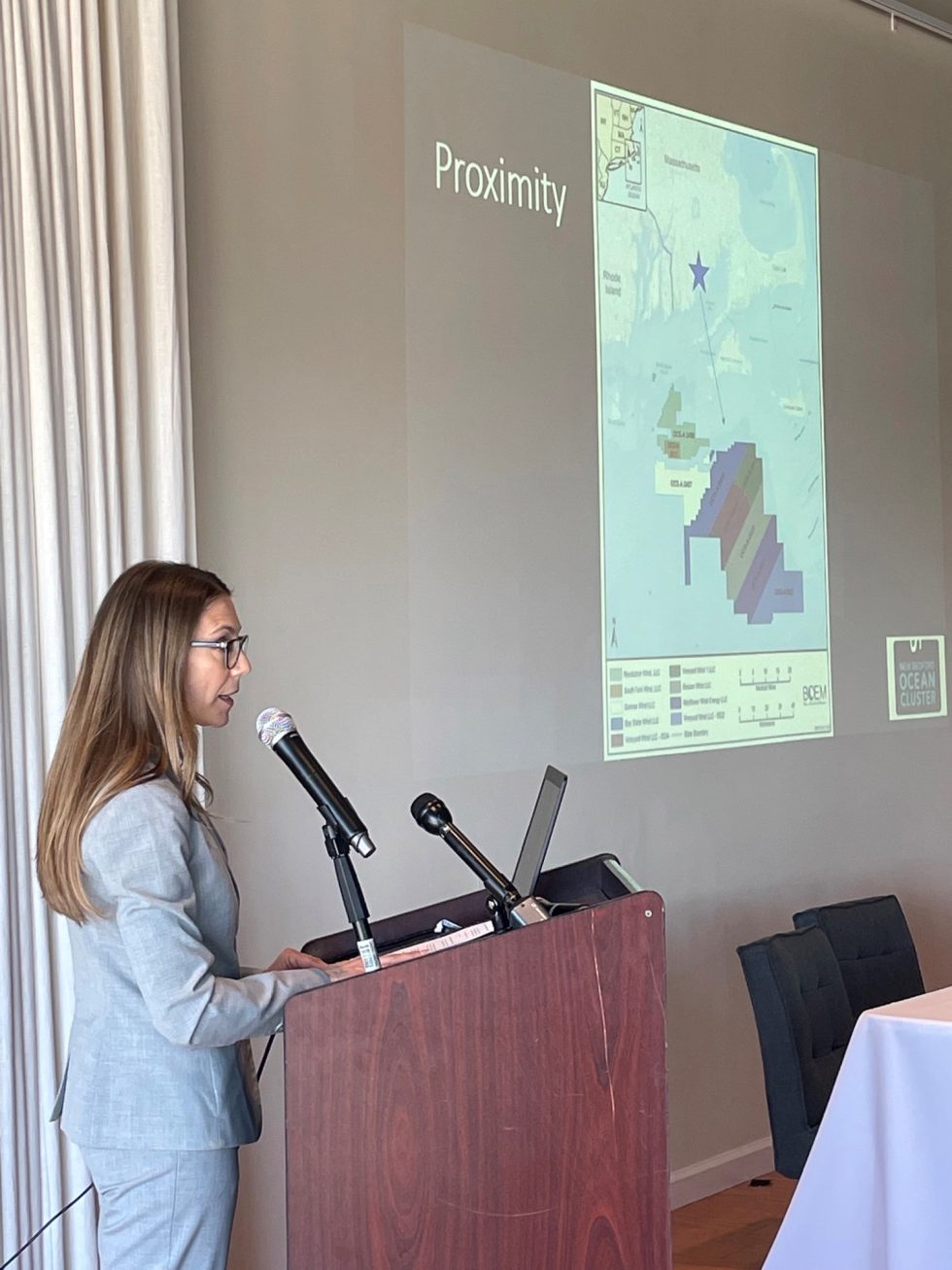 MOU Signals Future Collaboration
On the evening of June 9th, the NBOC and local partners including the New Bedford Economic Development Council, Bristol Community College, UMass Dartmouth, and others, joined the Belgian Economic Trade Mission at the Greentown Labs in Somerville to celebrate leadership in offshore wind development in Massachusetts. The event brought together state and local government, developers, supply chain leaders, and key organizations advancing the industry across the state.
In front of Gov. Charlie Baker, Her Royal Highness Princess Astrid of Belgium, and Flanders Minister-President Jan Jambon, the NBOC signed a Memorandum of Understanding (MOU) with the Belgium Blue Cluster to formally express both parties' intent to explore collaboration, and foster innovation and international trade.
The Belgian Blue Cluster is a non-profit organization created in 2017 by private companies with the aim of developing and valorising innovative and sustainable economic activities related to seas and oceans. The Blue Cluster has 192 industrial members and 17 publicly funded partners. Claire Tillekaerts, CEO of Flanders Investment & Trade represented The Blue Cluster at Thursday's event on behalf of its CEO, Marc Nuytemans.
Nuytemans said the Blue Cluster is excited to be linked to the New Bedford Ocean Cluster, adding: "The experience of our Belgian pioneers combined with the potential of NBOC will create powerful and elegant opportunities in the Blue Economy both in Belgium and in the USA."
"The NBOC is thrilled to work more closely with the Blue Cluster of Belgium to explore collaborative opportunities to strengthen ocean innovation and economic growth in our respective regions. By sharing expertise, innovating together, and joining forces to create scale, our regions can increase their competitiveness and at the same time contribute to the major energy transition the world is facing." Downing said.
Thursday's program also included a keynote speech by Klaus Moeller, CEO of Vineyard Wind. Vineyard Wind is developing the nation's first commercial-scale offshore wind project, Vineyard Wind 1, just 30 miles off the coast of New Bedford. Vineyard Wind has established operations in New Bedford and will be using the New Bedford Marine Commerce Terminal as the primary staging and deployment base for construction and installation of the 800-MW project.
Bill White, CEO of Avangrid Renewables, delivered the event's closing remarks. Avangrid has committed to building an Offshore Wind Control Center in New Bedford, a state-of-the-art facility that will provide operations and control support for its 1,232-MW Commonwealth Wind project.