NBOC at Home and on the Road
This month, we are excited to share with you NBOC plans for the upcoming spring season. Our focus on growth continues as we gear up for a busy few months of travel and engagement efforts to raise the profile of the Port of New Bedford and support our local marine businesses. Toward that end, we have exciting news to share regarding our operations and expansion efforts.
First, we are thrilled to announce that we are looking to hire a Business Development Manager as our second staff person. This strategic move is aimed at expanding our capacity to assist local businesses and provide more opportunities for networking, learning, and information sharing. It will also help us achieve a  key goal of attracting commercial investment in our local marine industry economy. Read more or apply for the position here. We are also excited to announce that the NBOC is a participating employer in the "Closing the Experience Gap" program funded by the Massachusetts Clean Energy Center and will be bringing on an intern from UMass Dartmouth over the next 12 weeks to support our Act Local program. The goal of "Closing the Experience Gap" is to expose UMass Dartmouth students to careers in offshore wind.
Additionally, we are launching our Fisheries Advisory Committee, which will play a key role in building out one of NBOC's key pillars: Commercial Fishing & Processing. The individuals who will make up the Committee have significant fishing industry experience and a deep knowledge of the Port of New Bedford. (We'll bring you more news about this next month, as well as plans to bring on more members to our Board of Directors.)
Hitting the road, we are excited to attend the Business Network for Offshore Wind International Partnership Forum in Baltimore in March. NBOC will be attending, exhibiting, and speaking at the event. Our very own Executive Director, Jennifer Downing will be a speaker on a panel focused on innovation clusters and the benefits of community-based organizations in improving the livelihood of local maritime communities. (See more under "Events" below.)
Finally, we are thrilled to share that the NBOC and six local businesses will visit Denmark as part of a U.S. delegation of offshore wind companies in April. This trip will offer our local companies an opportunity to network and explore business opportunities with Danish offshore wind companies and visit key offshore wind industry sites, including the successful Port of Esbjerg. 
We hope that you are as excited as we are about these upcoming significant milestones and the growth they represent for the NBOC and our local businesses. We remain committed to supporting our local economy, bringing commercial investment to the Port of New Bedford, and expanding our role as a convener, connector, and partner to its dynamic maritime business community. 
Thank you for your continued input and support.
Sincerely,
The NBOC Team
Bristol Community College's National Offshore Wind Institute (NOWI), located in New Bedford, MA, is currently seeking Basic Safety Trainers and Basic Technical Trainers. The trainers will go through an extensive Train the Trainer program to become GWO certified, including eight weeks of training with NOWI partners at Maersk Training – who are GWO certified. (GWO is the globally recognized training standards organization for offshore wind.) Find out more here.
PAID INTERNSHIP: The NBOC is hosting an internship through the University of Massachusetts Dartmouth and supported by the Massachusetts Clean Energy Center's Closing the Experience Gap program. We're excited to participate in the program and provide a student the opportunity to work in the Offshore Wind industry! Learn more here.
VINEYARD WIND: Review current openings associated with Vineyard Wind 1 at this link. Please note that project construction will be done by companies contracted by Vineyard Wind.
RECENT NEWS of #NBOC Interest
COASTIN': Massachusetts coastal lawmakers presented several pieces of legislation  that would advance marine industries while also focusing on wildlife conservation and habitat protection. Southcoast Today looks at how the legislation could affect New Bedford.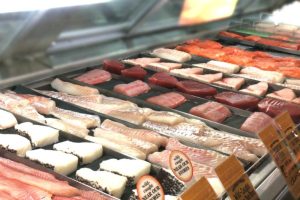 COMMERCIAL FISHING PLAN: NOAA Fisheries released its draft National Seafood Strategy. It is open for public comment through March 16, 2023. Written comments can be submitted at this link.
A FIRST FOR VINEYARD WIND: Vineyard Wind, a joint venture between AVANGRID, Inc. (NYSE: AGR), and Copenhagen Infrastructure Partners (CIP), recently submitted its first annual report to the Massachusetts Department of Energy Resources (DOER) entitled, "Vineyard Wind 1 Impact on Jobs and Economic Output." Read it at this link.
OFFSHORE WIND IMPACT: The Bureau of Ocean Energy Management (BOEM) is moving forward with the next key step for the development of one of Massachusetts' offshore wind farms. On February 13, BOEM announced the availability of the draft Environmental Impact Statement (EIS) for the proposed SouthCoast Wind (formerly Mayflower Wind) energy project offshore Massachusetts. It begins a process of a 45-day comment period as part of the review by BOEM as the project moves into the final stage of permitting and approvals. Read more here.
THE BIG PURCHASE: The U.S. Department of Agriculture will buy Atlantic haddock, pollock, and perch from domestic fisheries on the U.S. East Coast to supply food banks. Saving Seafood has the story here. 
APPLY BY MARCH 1: The Massachusetts Maritime Academy has added a second date to their Spring 2023 Career Fair. Thursday, March 29 is sold out, but if you register by March 1, space will be available on the second date of Friday, March 30. You can do that at this link.
ON MARCH 2, Massachusetts High School Educators and Students are invited to an invitation-only event: Premiere Sustainable Career Pathways Video Series & SustainWDN™ Green Job Shadow Day. Oscar Tobacia, Offshore Wind Engineer Atlantic Shores Offshore Wind, will be on hand for the premiere of The Insitute's Sustainable Career Pathways Video Series. In this video series, Oscar shares his journey and encourages young people to find mentors to guide them as they explore their careers. The Institute's Sustainability Coordinator Trevor Tanaka will share the Climate Education Curriculum's Sustainable Career Pathways. Register here.
BEGINNING MARCH 7: Vineyard Wind and the Offshore Wind Business Network are sponsoring a free, three-day training for local business owners examining how they can be a part of the supply-chain needed for offshore wind development. Happening on March 7, 8 and 9 at the Verdean Veterans Memorial Hall on Purchase Street in New Bedford, it will be geared toward under-represented groups – African-American, Native American, Women, Veteran, Portuguese-American and LGBTQ+ owned businesses. Reserve a spot at this link.
BEGINNING MARCH 12: The Seafood Expo North America/Seafood Processing North America takes place March 12-14, 2023 in Boston. See what's in store here.
MARCH 28-30 – The 2023 International Offshore Wind Partnering Forum (IPF) will take place in Baltimore, Maryland. The IPF is the premier offshore wind energy conference in the Americas. Hosted by the Business Network for Offshore Wind, IPF connects global leaders and businesses in the supply chain, offers unparalleled networking opportunities, and delivers the most timely and relevant updates on the industry, from technology and policy, to safety and siting. (Find out more here.)
NBOC Executive Director Jennifer Downing will be a speaker on the following panel: What a Cluster! The Benefits of Community-Based Organization – The word "cluster" can bring up many different connotations, but the goal of community-based clusters is to improve the livelihood of local communities, environment, and other focus areas. 
As it relates to offshore wind, "cluster" generally refers to a group of organizations or businesses clustered around a space, whether conceptually or physically in one space, to embody and represent the idea of strength in numbers. All clusters have their own personality, depending on their focus areas. 
Representatives from community-based clusters in Massachusetts, like the New Bedford Ocean Cluster, and Rhode Island will share the work on their collective clusters and the impacts they are having on the community at large.