This month, we're taking a deep dive into the Offshore Wind North East (OWNE) Conference which recently took place in Sunderland, United Kingdom. 
NBOC Executive Director Jennifer Downing and City of New Bedford Mayor Jon Mitchell traveled to the conference in early November to highlight the competitive advantages New Bedford holds for European wind companies seeking to establish a presence in the United States.
Upon her return, Jennifer sat down with writer Steven Froias for a Q & A to discuss the trip and share her insights into the offshore wind industry in the UK and in the U.S. 
Here's the interview:
Before we begin, how was the flight across the pond and did you have any jet lag?
The flight was good! We had smooth travels to and from the UK. There's always a day or two of jet lag when you travel overseas, but not too bad overall. 
This is your second time going to the United Kingdom for the New Bedford Ocean Cluster. How useful has it been to discover how the offshore wind industry has developed there?
Incredibly useful. The UK has been at this for decades, so New Bedford can learn a lot from not just their successes, but also their mistakes and challenges. This trip was particularly useful and gave us insight into ways to further develop and enhance the Port of New Bedford, as well as how the NBOC can best support local businesses to participate in the supply chain. We also gained insight into important elements needed to cultivate innovation and start-up activity to support offshore wind industry growth, as well as the blue economy more broadly.
What general lessons have you taken away from OWNE and brought back to the New Bedford area?
Overall, I left the UK feeling reassured. New Bedford has been positioning itself for well over a decade to be a hub for the offshore wind industry and I believe we are continuing to move in the right direction. 
The city has prioritized port infrastructure development for several years now. Since 2014, New Bedford has secured over $900M for port projects (completed and currently being planned). We'll need to keep up our work to build new, and upgrade existing, port infrastructure into the future if we are to remain competitive and meet the ever-evolving needs of offshore wind.
One of the NBOC's priority marine industry areas is Innovation & Technology because we understand that continued development and growth of the blue economy depends upon the introduction of new ideas, solutions, and efficiencies. This sentiment was reinforced during our trip. During our visit to New Castle, the mayor and I had the opportunity to visit the Newcastle Helix, an impressive innovation hub that has done an amazing job bringing together the research and business community to collaborate and bring innovation to marketplace. Creating something similar in New Bedford is of huge interest to the NBOC, and we look forward to exploring with key players like the MassCEC, UMass Dartmouth, Bristol Community College and industry about how to make this happen for our region. 
More specifically, supply chain logistics are a critical element of building a sustainable offshore wind industry. Europe and the United Kingdom have a head start on the United States. Was there one single element of a robust supply chain you learned about that the NBOC can replicate here?
The UK indeed has a head start on the U.S., but they also have their own supply chain challenges as their industry continues to grow and the country (like the U.S.) works to meet ambitious climate goals.
What I'm learning as I talk to experienced companies overseas in OSW is that the approach to supply chain development, particularly as it relates to creating local content, needs to be quite targeted to have an impact. The OSW supply chain has a lot of different areas (and nuance). Technical assistance to businesses cannot be one size fits all. It needs to be more granular and will take hand holding and direct support. 
As a local organization with a focus on New Bedford and the region, the NBOC is well-positioned to get into the weeds with area businesses and help them to really dig in and understand the opportunities, issues, and challenges in their respective area of the supply chain. The industry is new here, so working with local partners, and well-established companies in OSW and other cluster organizations will be important as we do this to ensure business assistance is based on actual, on-the-ground experience, know-how, and best practices.
I also think it is important to have a good sense of your existing supply chain and where there are gaps. We are just about to complete a supply chain gap analysis at the NBOC so we can be more targeted with both our business assistance, as well as our business recruitment efforts. 
You traveled to the conference with New Bedford Mayor Jon Mitchell – and he was the only American to actually address the conference. What kind of competitive advantage does this give the Port of New Bedford as an offshore wind hub in Massachusetts?
The mayor did a great job addressing Offshore Wind North East conference attendees. His remarks provided a comprehensive overview of U.S. industry trends and New Bedford's many strengths and industry advantages. Anytime you have the chance to get in front of a wide audience of industry leaders it's good for business and North East England has some of the most successful OSW companies, ports, and industry associations in Europe. 
You've also attended various other conferences in the United States, from Boston to Virginia, pertaining to offshore wind. Have you discovered any differences in the dialogue in the States relative to industry policy?
I find the dialogue in the U.S. at present to be consistent. All the states and ports developing offshore wind are grappling with many of the same challenges. 
One area of conversation that I'm particularly keen to follow relates to the need for collaboration across state lines. The industry is very competitive in the U.S. While competition is healthy, and even necessary for a robust and thriving economy, continued development of the U.S. offshore wind industry will require coordination and cooperation across not just states, but also ports. 
Finally, as the first Executive Director of the New Bedford Ocean Cluster, which itself is in the process of being built collaboratively with city and regional partners and supporters, what was the primary message you hoped to leave with people at the OWNE Conference in the United Kingdom? 
You have an industry partner in New Bedford. New Bedford has been at the forefront of developing offshore wind in the U.S., much like the UK has been in Europe, for over a decade. Our regions can both experience economic benefit from each other's leadership in this industry.
NBOC Executive Director Jennifer Downing also recently sat down with the Massachusetts Maritime Academy for an interview with their Academy Magazine. You can view the PDF pages from the magazine here. Massachusetts Maritime Academy is a fully accredited, four year, co-educational state university, located in Buzzard's Bay, MA.
Massachusetts Clean Energy Center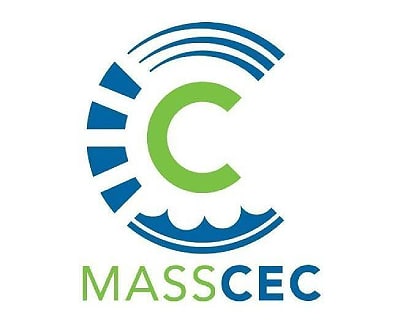 is seeking a Terminal Administrator for the New Bedford Marine Commerce Terminal. The terminal is a heavy-lift port facility built in 2015 to support the construction, assembly, and deployment of #offshorewind projects. The listing can be found on the opportunities page at this link.
The National Offshore Wind Institute (NOWI) is seeking an experienced staff to launch a full-service offshore wind training center – Global Wind Organisation certified – to support the offshore wind industry in the U.S. Positions to be filled include: Director National Offshore Wind Institute; Associate Director, National Offshore Wind Institute; Basic Safety Training Instructors; and Basic Technical Training Instructors. Full-time college benefitted positions and training provided by the NOWI. Interested? Contact NOWI through their website here for further details.
Semco Marine, an international engineering and contracting company dedicated to projects in the energy sector, is seeking an Operations Manager for its offshore wind operations. "We are looking for a technically experienced person with a real can-do attitude and flexibility to travel. You will primarily work from our office in New Bedford, USA," they write. Find out more here.
RECENT NEWS of #NBOC Interest
IN HIS OWN WORDS – "As an economic development professional…the opportunity to come here at this point, when there is so much activity, so much investment and so much future opportunity for the port, was irresistible." Interview with New Bedford Port Authority Director Gordon Carr from The Public's Radio here. 
MAYOR MITCHELL IN THE UK: The perspective from New Bedford City Hall on the Offshore Wind Northeast Conference in Sunderland, United Kingdom. Mitchell says his objective was to make sure the Port of New Bedford is top of mind whenever discussions by offshore wind companies take place about U.S. locations. Full news release here.
CALLING ALL UNDERGRADUATE STUDENTS: The NOAA Fisheries' Inclusive Fisheries Internship Program (IN FISH) and Woods Hole Partnership Education Program (PEP) are now accepting applications for the summer of 2023. These are paid, 10-week internships that help build a diverse and inclusive workforce and provide students from underrepresented groups in marine and ocean sciences with practical experience in marine and environmental science. Applications for both programs are due February 10, 2023. Learn more here and apply here. 
TALKING SEAFOOD: The webinar at this link features speakers highlighting some of the needs and opportunities within the Massachusetts Seafood System via Urban Harbors Institute UMass Boston
MASSACHUSETTS CLEAN ENERGY CENTER'S Accelerators Program provides grants to Massachusetts accelerators for specific activities with the goal of growing the cleantech innovation ecosystem and commercializing early stage cleantech startups. Grants fund accelerator activities, including operations and management expenses, events and educational series, growing strategic clusters, prizes, and scholarships for their current cohort of startups. Grants are up to $120,000 per year and award payments are typically tied to accelerator deliverables and to startup scholarships and support. Application deadline for the next round is Jan. 2, 2023. Learn more at this link.
HIGH-TECH MAMMAL DETECTION: Vineyard Wind and Charles River Analytics announced a new collaboration aimed at further protecting marine mammals during the construction of the Vineyard Wind 1 project. Find out more here.
CLEAN ENERGY LEADERS WANTED: Greentown Labs and Browning the Green Space have launched the Advancing Climatetech and Clean Energy Leaders Program (ACCEL), seeking applications from entrepreneurs who identify as Black, Indigenous, and/or People of Color (BIPOC) and are building climatetech startups. The program is a unique partnership between Greentown, the largest climatetech startup incubator in America, based in Somerville, MA, and BGS, a nonprofit dedicated to making clean energy and other climate-related fields more diverse, equitable, and inclusive. Applications for ACCEL are due by Dec. 23. Interested entrepreneurs can learn more about the call for applications here.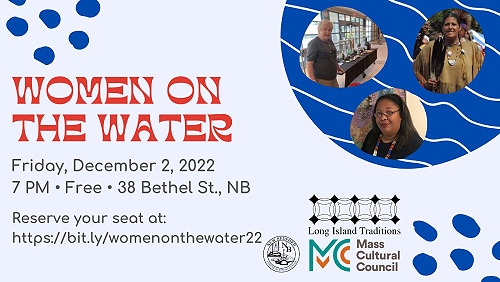 // FRIDAY, DECEMBER 2 – WOMEN ON WATER: The New Bedford Fishing Heritage Center hosts Women on Water at 7:00 p.m. Learn about the different ways women are involved in the fishing industry in their own words during the discussion. Bayman Flo Sharkey (Patchogue, NY) and Shinnecock tradition bearers Josephine Smith and Shavonne (Shinnecock Nation, Southampton, NY) will discuss their experiences on the water alongside other women local to the New Bedford area. Free; register at this link. 
// MON. DEC. 5 & TUES. DEC. 6 –  National Offshore Wind R&D Symposium 2022 is a two day in-person and virtual conference showcasing NOWRDC's project portfolio. Comprised of keynote talks and project presentation panels organized around technical challenge areas, the conference will take place December 5 & 6 in-person at Northeastern University and be live streamed virtually on Hopin. Register at this link. 
// TUESDAY, DEC. 13 – The BUSINESS NETWORK FOR OFFSHORE WIND will hold a free one-hour webinar beginning at 11:00 a.m. to learn about the national offshore wind standards initiative and its objectives. Learn about the emerging U.S. offshore wind compliance recommended practices and how they impact your business. Register here. 
// OVER THE HORIZON: The 2023 Seafood Expo North America will take place March 12-14 in Boston, MA. Registration to attend or showcase is open now at this link.