We're all familiar with the saying "If you build it, they will come" from the classic Kevin Costner film, "Field of Dreams." In essence, it means that if you put effort and faith into the success of a project, It's more likely to succeed.
On Thursday, January 12 at the New Bedford Offshore Wind Career Fair, roughly 500 people came to the Andrea McCoy Recreation Center in the city to show that they're prepared to put their effort and faith into the burgeoning offshore wind industry in the greater New Bedford region.
City of New Bedford Jon Mitchell took to Twitter to write, "If @VineyardWindUS's jobs fair today was any indication, Greater #newbedford is ready to dive right in with an industry that at long last is about to launch in the US."
Former Mayor – and current NBOC Board of Directors President – John Bullard told radio station WBSM, "The message of this jobs fair is that offshore wind is here today."
The station's report captured the exuberant feeling at the Career Fair: Booths were lined along the gymnasium with local companies, labor organizations, and major national corporations such as General Electric that were looking to hire. There was also a virtual reality booth where attendees could get an immersive experience on what it's like to work on a wind turbine." 
We'd also like to note that Trinity Day Academy students, facilitated by two Culinary Instructors, served some delicious chow from their cool new food truck (pictured). After all, you can't build the future on an empty stomach!
If there was a festive mood in the air at the New Bedford Offshore Wind Career Fair, it's because there was so much on the table. Southcoast Today reported that "Open positions at the career fair included electricians, welders, pipe fitters, mechanics, fabricators, carpenters, painters, laborers, technicians, marine life observers, GIS analysts, deck hands, mates, captains, safety managers, equipment operators, project managers and many others." 
The NBOC was thrilled to co-host the Offshore Wind Career Fair with Vineyard Wind and New Bedford Parks, Recreation, and Beaches. 
"I think this is only the beginning," Klaus Mueller, CEO of Vineyard Wind, told Southcoast Today. "We expect to hire at least 200 out of this effort and for the future there's other projects after us. Also the wind farm is expected to go on for 30 years so there will be plenty of opportunities."
We agree – and look forward to partnering with the OSW industry to help to promote and facilitate future offshore wind career fairs and Meet-the-Buyer events to engage our local businesses in the industry. Because the wind energy farms we're creating off our coast aren't just fields of dreams any longer.
They're today's reality.
In fact, the NBOC is hiring, too! We're seeking a full-time Business Development Manager to support the organization's business engagement, recruitment, and retention objectives as they relate to both cluster membership and attracting long-term investment to advance New Bedford's marine economy. Please see the full job announcement at this link for more information.
Jennifer Downing, NBOC Executive Director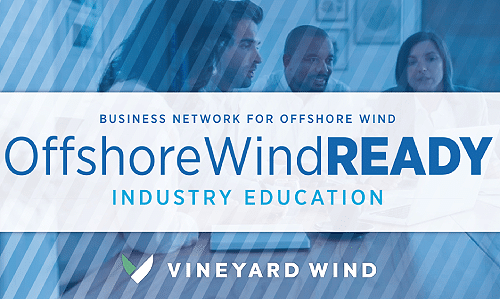 FREE TRAINING: The NBOC is pleased to share that the Business Network for Offshore Wind and Vineyard Wind are offering a free one-day training (valued at $325) on the offshore wind energy supply chain. The training is titled "Offshore Wind Ready" and it is geared towards businesses based in Massachusetts that are owned by underrepresented groups, including women, veterans, global majority members, tribes, people with disabilities and members of the LGBTQ community. This training is an excellent opportunity for businesses to learn more about the offshore wind industry and how to enter the supply chain. It will take place on Wednesday, February 8, 2023 from 10 AM to 4 PM at the New Bedford Whaling Museum. Along with the training, breakfast and lunch will also be provided. Click here to register.
PAID INTERNSHIP: The NBOC is hosting an internship through the University of Massachusetts Dartmouth and supported by the Massachusetts Clean Energy Center's Closing the Experience Gap program. We're excited to participate in the program and provide a student the opportunity to work in the Offshore Wind industry! Learn more here.
VINEYARD WIND: Review current openings associated with Vineyard Wind 1 at this link. Please note that project construction will be done by companies contracted by Vineyard Wind.
NBOC Welcomes Blue Tech Delegation to New Bedford
The NBOC hosted a group of over 40 marine technology companies on Thursday, January 26 in New Bedford. About 20 of the companies represented a Canadian delegation organized by the Consulate General of Canada in Boston. 
The visit to New Bedford, which included a speaking program and tours of the Port and the School for Marine Sciences & Technology (SMAST), was planned in coordination with the Blue Innovation Symposium, the premier event in New England for connecting the marine technology industry for education, networking and facilitating partnering opportunities. The conference brings together a broad spectrum of representatives of the marine technology industry from the US and beyond. 
Presentations were made by Mayor Jon Mitchell, NBOC Executive Director Jennifer Downing, New Bedford Port Authority Director Gordon Carr, Bruce Carlisle from the Massachusetts Clean Energy Center, and Mark Sullivan of the Massachusetts Office for International Trade and Investment.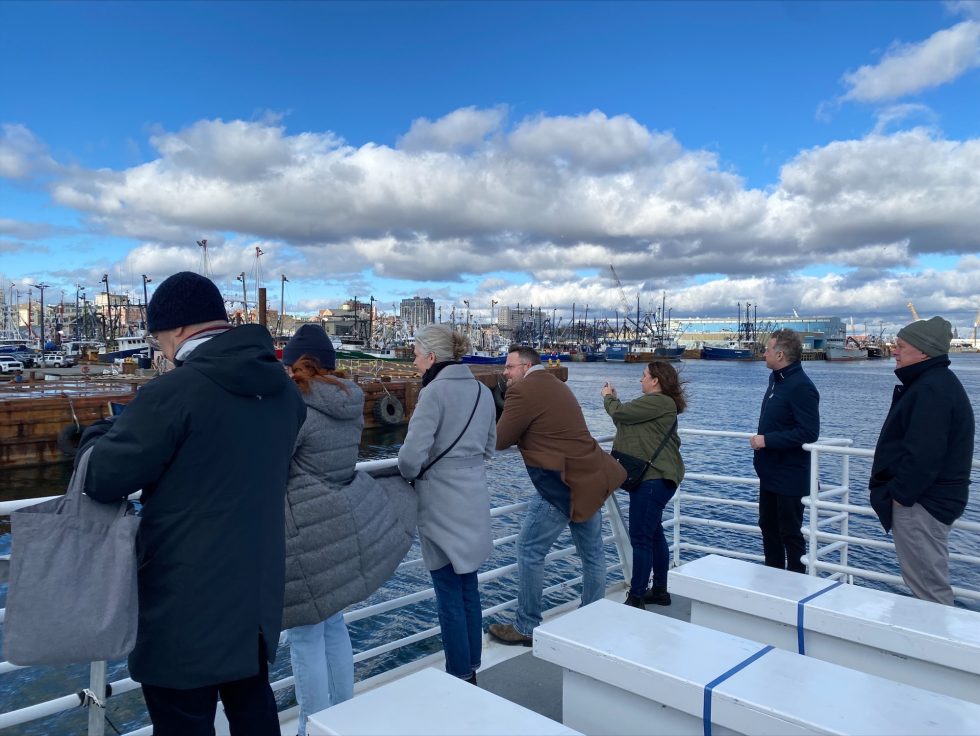 NBOC Executive Director Jennifer Downing commented, "Advancing blue technology in greater New Bedford is an important pillar at the New Bedford Ocean Cluster. With the Port of New Bedford's commercial uses expanding to include offshore wind and aquaculture, and with its proximity to leading marine science institutions like SMAST and WHOI, greater New Bedford is poised to become a vibrant ecosystem of blue tech companies. We look forward to working more closely with the Blue Venture Forum and other well-established blue technology networks to explore opportunities for innovation that can strengthen our marine economy and address the sustainability and health of the ocean." 
The NBOC wishes to thank Toby Stapleton at the Blue Venture Forum, Erin Daily Donahue at the General Consulate of Canada in Boston, and Dr. Ramprasad Balasubramanian at UMass Dartmouth for supporting the event.
Get ready for Greentown Labs #GoEnergize2023! Go Energize 2023 with Vineyard Wind and MassCEC seeks to decarbonize the energy sector through the responsible development of the domestic offshore wind industry. In a new program, they are seeking collaborative innovations that change how energy is generated, stored, transported, and consumed. Go Energize 2023 is seeking applications from startups with a technology readiness level (TRL) of 3 and higher. Applicants should also be actively commercializing or looking to commercialize within the offshore wind industry. Apply by April 4, 2023 at this link.
Join NOAA on February 8-9 for a virtual symposium to hear from the North American Association for Environmental Education (NAAEE) regarding aquaculture literacy mini-grantees that work to enhance public understanding of aquaculture. Register here.
Lobster Days! At the New Bedford Fishing Heritage Center – Thurs. and Fri., 2/23 & 2/24 • 11am-3pm at the Center (38 Bethel Street, New Bedford) • FREE: Kids bored during school vacation? No longer with the return of Lobster Days! Visit the Center for crafts, story time, and lobster-themed fun. Working lobstermen will be on hand to answer questions and teach you about these interesting critters!
RECENT NEWS of #NBOC Interest
LIMITLESS POTENTIAL: MA Governor Maura Healey describes the South Coast as "a place with limitless potential" for renewable energy innovation during a visit to University of Massachusetts Dartmouth. See what she said here.
GE FELLOWS: A GE Fellows Program has been established at the Massachusetts Maritime Academy and will offer scholarships to MA students and workers preparing for careers in the state's burgeoning wind power and renewable energy industries, with a focus on women, people of color, and residents in underserved communities. Read all about it here.
ON THE NEW BEDFORD WATERFRONT: A revised redevelopment plan and attendant zoning now focus on the periphery of the New Bedford Foss Marine Terminal site around the intersection of MacArthur Drive and Leonard's Wharf. See what's on the drawing board here.
DEEP DIVE: How New Bedford Harbor was made more resilient and ready for future development from the company that performed harbor clean-up operations. The inside scoop here. 
COMMERCIAL FISHING TECHNOLOGY: A new program to plan low- and zero-emissions energy technology for the Massachusetts fishing industry is getting nearly $2 million as part of the recently passed federal Omnibus Appropriations Act for 2023. National Fisherman has the story here.
IN COD WE TRUST: The New England Fishery Management Council has approved a new strategy that it said has a 70% chance of rebuilding cod stock by 2033, per the Associated Press.
This month we extend a warm welcome to new NBOC members Coast Line Transfers, LLC, Common Sense Environmental, Inc., and HeliPPE. They join our partners and members below. 
Membership in the NBOC provides an opportunity to help shape future growth and advancement from the best possible vantage point. Membership keeps you informed on developments happening across marine industries locally and over the horizon. 
If you're interested in becoming a member, contact Jennifer Downing, NBOC Executive Director (jennifer.downing@nboceancluster.org)
Thank you to our partners and members!